Overview:
The AIP diet is an elimination diet designed to repair the immune system and reduce the effects of autoimmune diseases by giving your gut time to heal. It is also called the paleo autoimmune protocol.
Autoimmune diseases are conditions when the body mistakes healthy tissues for toxic or foreign tissues and begins to attack them. Individuals with autoimmune diseases have an overactive immune system which leads to chronic inflammation and destruction of health tissues. Symptoms of autoimmune diseases include inflammation associated with lupus, rheumatoid arthritis, or psoriasis. Autoimmune diseases can be difficult to diagnose since their symptoms can look like other diseases.
Directions:
Step 1
is starting with a 30-day reset. Sticking to the diet for a minimum of 30 days gives your body a chance to begin calming the autoimmune response, healing the gut lining, reducing inflammation, and repairing damaged tissues that were subject to the autoimmune attack. By removing the foods and toxins that contribute to the autoimmune response and providing adequate nutrients to fuel the healing process, you can significantly reduce symptoms and even possibly put the disease into remission.
Step 2
is to optimize your nutrient intake. It is important to be purposeful about adding certain foods into your diet to provide the nutrients and building blocks your body needs to repair damaged organs, modulate the immune system, and heal the gut lining.
In addition to removing common autoimmunity triggers, it is essential to add in nutrient-dense foods like:
Liver
Bone broth
Colourful vegetables
High-quality meats and fats
Fatty fish and shellfish
Fermented foods
Step 3
is to systematically re-introduce foods into your diet. The best way to construct a reintroduction protocol for an autoimmune diet is to first choose which foods are the most important to you to try reintroducing, and then work systematically to bring them back into your diet.
Step 4
involves getting tested for sensitivities. Sometimes, the reintroduction protocol is not enough to discover which foods are causing you to have immune system flares. If your symptoms are not improving on a strict AIP diet, you may still be eating a food that might be causing an immune response. In this case, getting food sensitivity testing is a good option to determine exactly which foods are causing your symptoms.
Foods to avoid:
Grains: rice, wheat, oats, barley, rye, etc., as well as foods derived from them, such as pasta, bread, and breakfast cereals

Legumes: lentils, beans, peas, peanuts, etc., as well as foods derived from them, such as tofu, tempeh,

mock meats

, or peanut butter

Nightshade vegetables: eggplants, peppers, potatoes, tomatoes, tomatillos, etc., as well as spices derived from nightshade vegetables, such as paprika

Eggs: whole eggs, egg whites, or foods containing these ingredients

Dairy: cow's, goat's, or sheep's milk, as well as foods derived from these milks, such as cream, cheese, butter, or ghee; dairy-based protein powders or other supplements should also be avoided

Nuts and seeds: all nuts and seeds and foods derived from them, such as flours, butter, or oils; also includes cocoa and seed-based spices, such as coriander, cumin, anise, fennel, fenugreek, mustard, and nutmeg

Certain beverages:

alcohol

and coffee

Processed vegetable oils: canola, rapeseed, corn, cottonseed, palm kernel, safflower, soybean, or sunflower oils

Refined or processed sugars: cane or beet sugar, corn syrup, brown rice syrup, and barley malt syrup; also includes sweets, soda, candy, frozen desserts, and chocolate, which may contain these ingredients

Food additives and artificial sweeteners: trans fats, food colorings, emulsifiers, and thickeners, as well as artificial sweeteners, such as stevia, mannitol, and xylitol
Foods to eat:
Vegetables: a variety of vegetables except for nightshade vegetables and algae, which should be avoided

Fresh fruit: a variety of fresh fruit, in moderation

Tubers: sweet potatoes, taro, yams, as well as Jerusalem or Chinese artichokes

Minimally processed meat: wild game, fish, seafood, organ meat, and poultry; meats should be wild, grass-fed or pasture-raised, whenever possible

Fermented, probiotic-rich foods: nondairy-based fermented food, such as kombucha,

kimchi

, sauerkraut, pickles, and coconut kefir; probiotic supplements may also be consumed

Minimally processed vegetable oils: olive oil, avocado oil, or coconut oil

Herbs and spices: as long as they're not derived from a seed

Vinegars: balsamic,

apple cider

, and red wine vinegar, as long as they're free of added sugars

Natural sweeteners: maple syrup and honey, in moderation

Certain teas: green and black tea at average intakes of up to 3–4 cups per day

Bone broth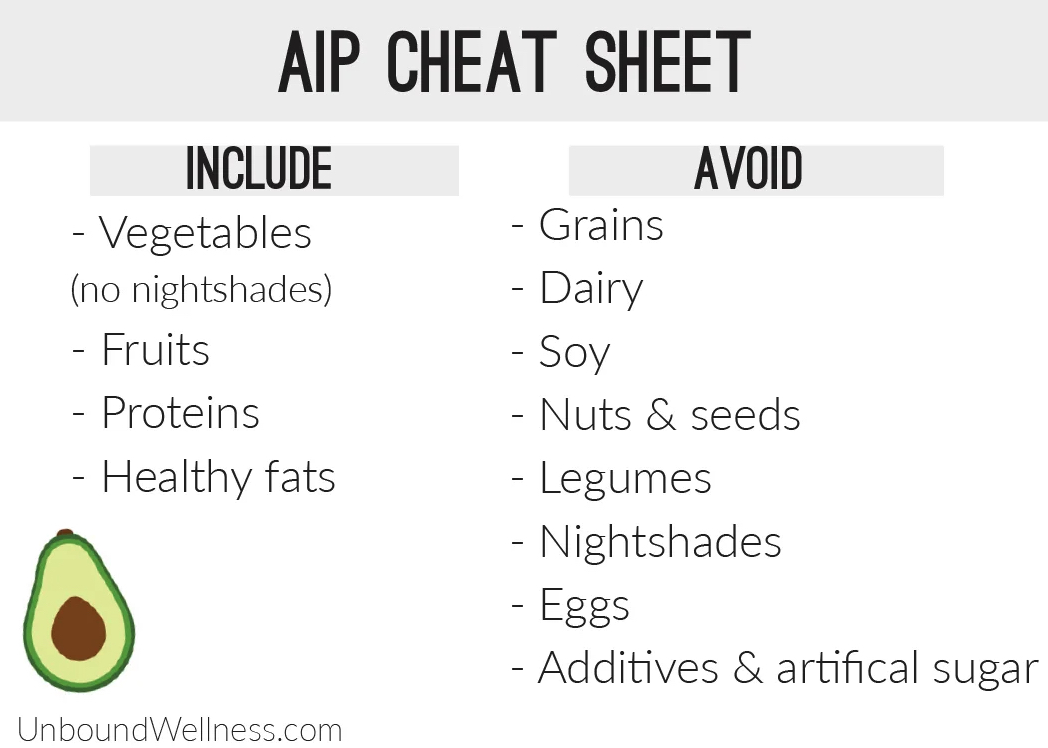 You need to login or register to bookmark/favorite this content.